TASTINGS
The perfect combination of natural beauty and modern design awaits you at our tasting room. We have experienced wine tasting hostesses that will help you discover your favourite wine and taste the unique differences between our award-winning cultivars.  Our Tasting Room is open 7 days a week, we do have quite a small space therefore bookings are recommended.
WINE TASTING OPTIONS
* Classic Tasting – R 40 p/p
You choose 4 wines that you wish to taste from a selection of Sauvignon Blanc, Chardonnay, Riesling, Pinot Noir, Cabernet Sauvignon and Syrah
* Group Tasting
A group larger than 10 individuals
– classic tasting R 50 p/p
– artisanal tasting R 80 p/p
* Artisanal Tasting – R 60 p/p
You choose 4 wines that you wish to taste from a selection of Wild Child, Coronata Integration, The Tinkery, Calligraphy and our Matriarch.  
* Private Tasting
These are available upon requests please speak to either Charlotte or Shelley. Our tastings can be accompanied by either a cheese or meat platter from Tables at Nitida. Please note that wines available might vary depending on the time of the year.
BUSINESS HOURS
Monday to Friday from 09:30 till 17:00
Saturday from 11:00 till 16:00
Sundays and Public Holidays from 11:00 till 15:00
Closed on Good Friday, Christmas Day and Family Day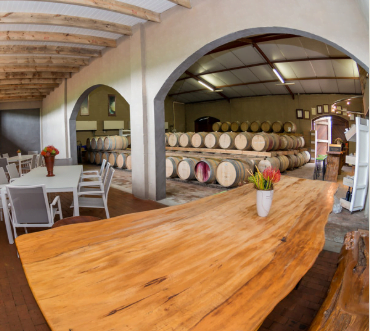 WINE SALES & TASTING ROOM HOURS
Monday to Friday 09:30 – 17:00
Saturday 11:00 – 16:00
Sunday & Public Holidays 11:00 – 15:00
NITIDA CELLARS
+27 21 976 1467
info@nitida.co.za
SUBCRIBE TO OUR NEWSLETTER
Stay up to date with news, special offers and events happening at Nitida.