NITIDA MODJADJI 2019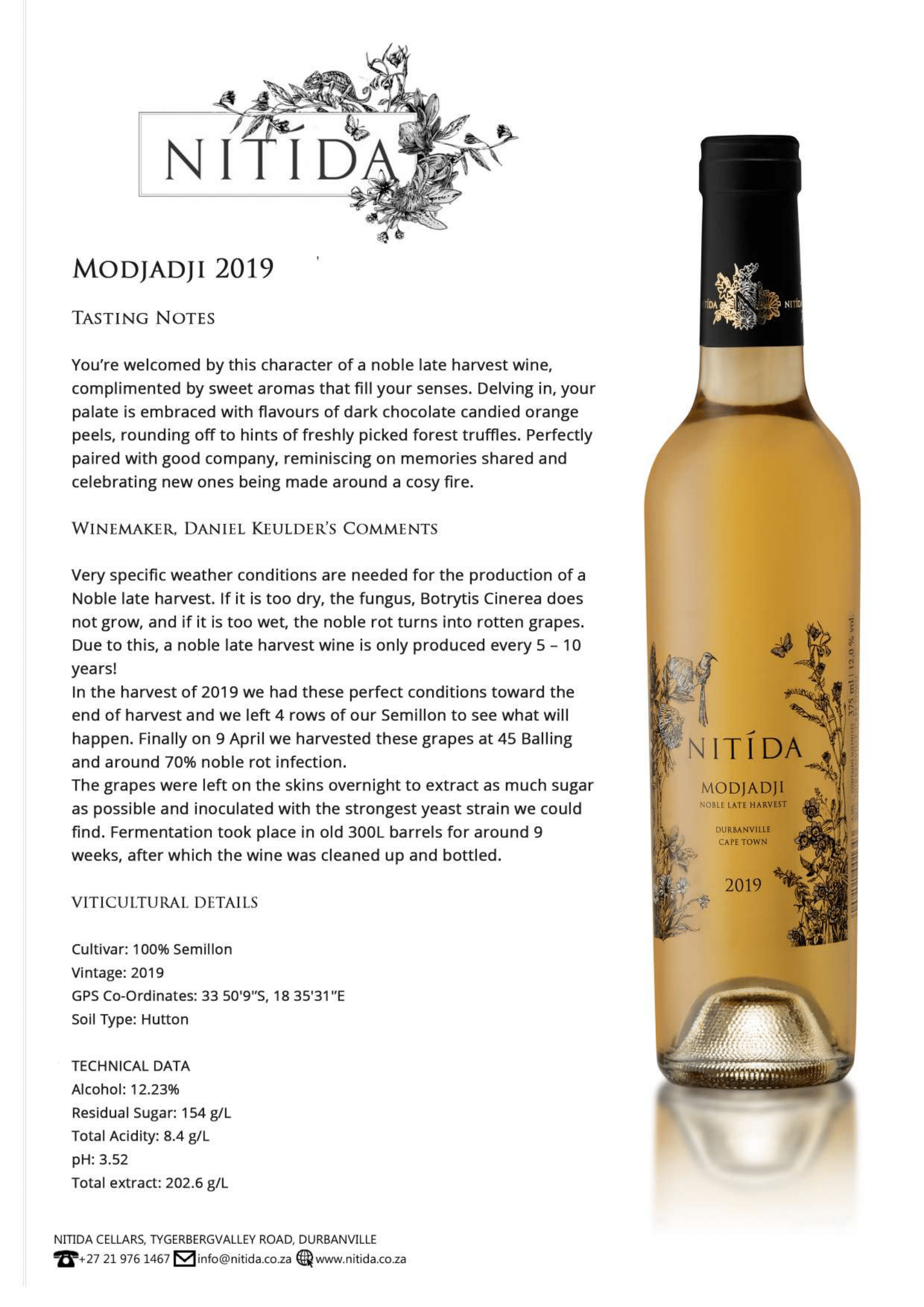 DOWNLOAD FACT SHEET
TASTING NOTES
A gift from a wet harvest, it seemed fitting to name this wine after queen Modjadji, considered the most powerful rain queen in Southern Africa. You're welcomed by this character of a noble late harvest wine, complimented by sweet aromas that fill your senses. Delving in, your palate is embraced with flavours of dark chocolate candied orange peels, rounding off to hints of freshly picked forest truffles. Perfectlly paired with good company, reminiscing on memories shared and celebrating new ones being made around a cozy fire.
WINEMAKER COMMENTS
Very specific weather conditions are needed for the production of a Noble late harvest. If it is too dry, the fungus, Botrytis Cinerea does not grow, and if it is too wet, the noble rot turns into rotten grapes. Due to this, a noble late harvest wine is only produced every 5 – 10 years!
In the harvest of 2019 we had these perfect conditions toward the end of harvest and we left 4 rows of our Semillon to see what will happen. Finally on 9 April we harvested these grapes at 45 Balling and around 70% noble rot infection.
The grapes were left on the skins overnight to extract as much sugar as possible and inoculated with the strongest yeast strain we could find. Fermentation took place in old 300L barrels for around 9 weeks, after which the wine was cleaned up and bottled.
ANALYSIS
SUBCRIBE TO OUR NEWSLETTER
Stay up to date with news, special offers and events happening at Nitida.