NITIDA CALLIGRAPHY 2015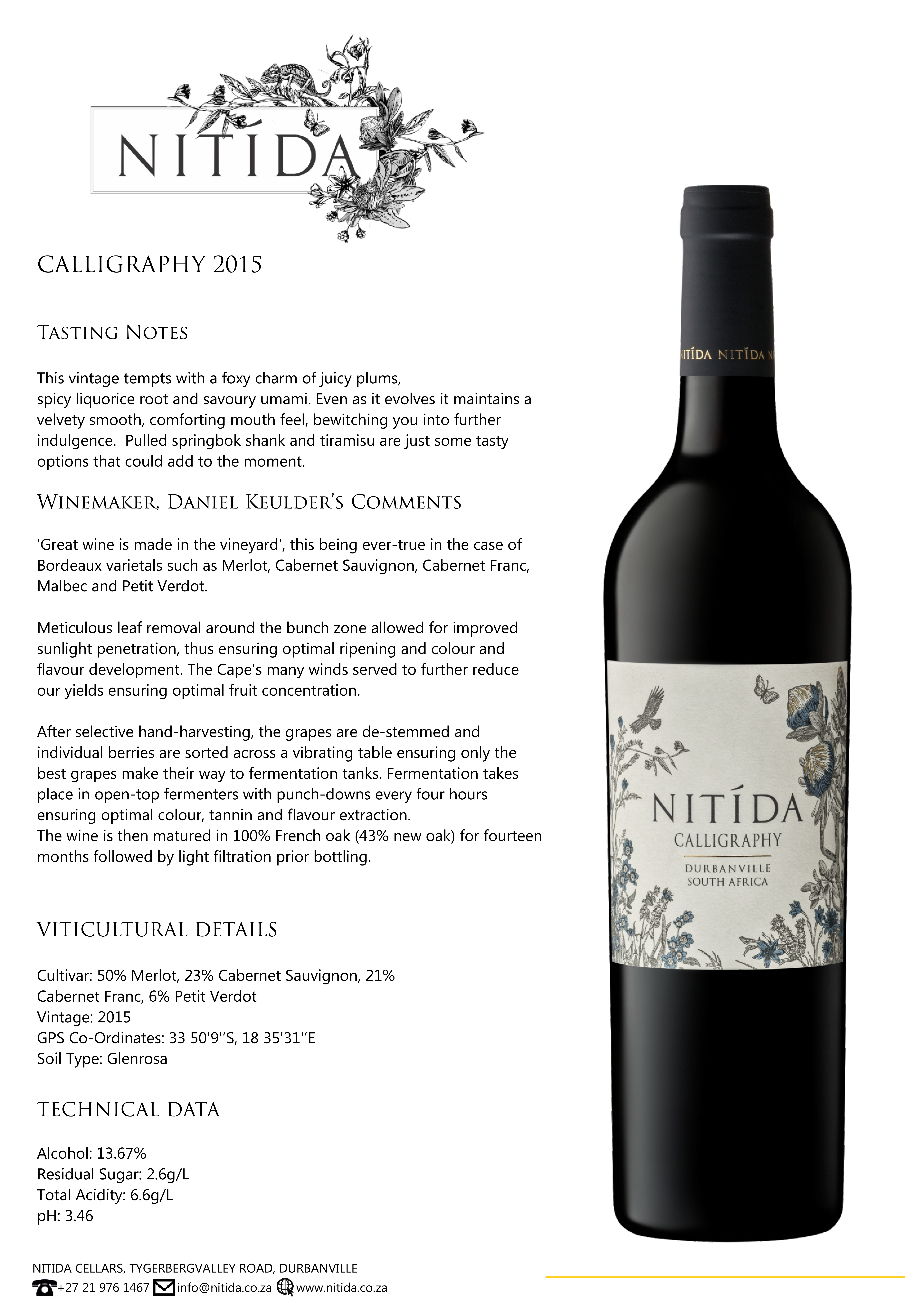 TASTING NOTES
Our Calligraphy tempts with a foxy charm of juicy plums, spicy liquorice root and savoury umami. Even as it evolves it maintains a velvety smooth, comforting mouthfeel, bewitching you into further indulgence.
Pulled springbok shank and tiramisu are just some tasty options that could add to the moment.
WINEMAKER COMMENTS
Great wine is made in the vineyard', this being ever-true in the case of Bordeaux varietals such as Merlot, Cabernet Sauvignon, Cabernet Franc and Petit Verdot. The Calligraphy's meticulous leaf removal around the bunch zone allowed for improved sunlight penetration, thus ensuring optimal ripening and colour and flavour development.
The Cape's many winds served to further reduce our yields ensuring optimal fruit concentration. After selective hand- harvesting, the grapes are de-stemmed and individual berries are sorted across a vibrating table ensuring only the best grapes make their way to fermentation tanks.
Fermentation take place in open-top fermenters with punch-downs every four hours ensuring optimal colour, tannin and flavour extraction. The wine is then matured in 100% French oak (38% new oak) for twelve months followed by light filtration prior bottling.
ANALYSIS
Merlot (50%), Cabernet Franc (21%), Cabernet Sauvignon (23%) and Petit Verdot (6%)
Wood: 100 % French Oak, 38 % new oak
SUBCRIBE TO OUR NEWSLETTER
Stay up to date with news, special offers and events happening at Nitida.