RIESLING 2018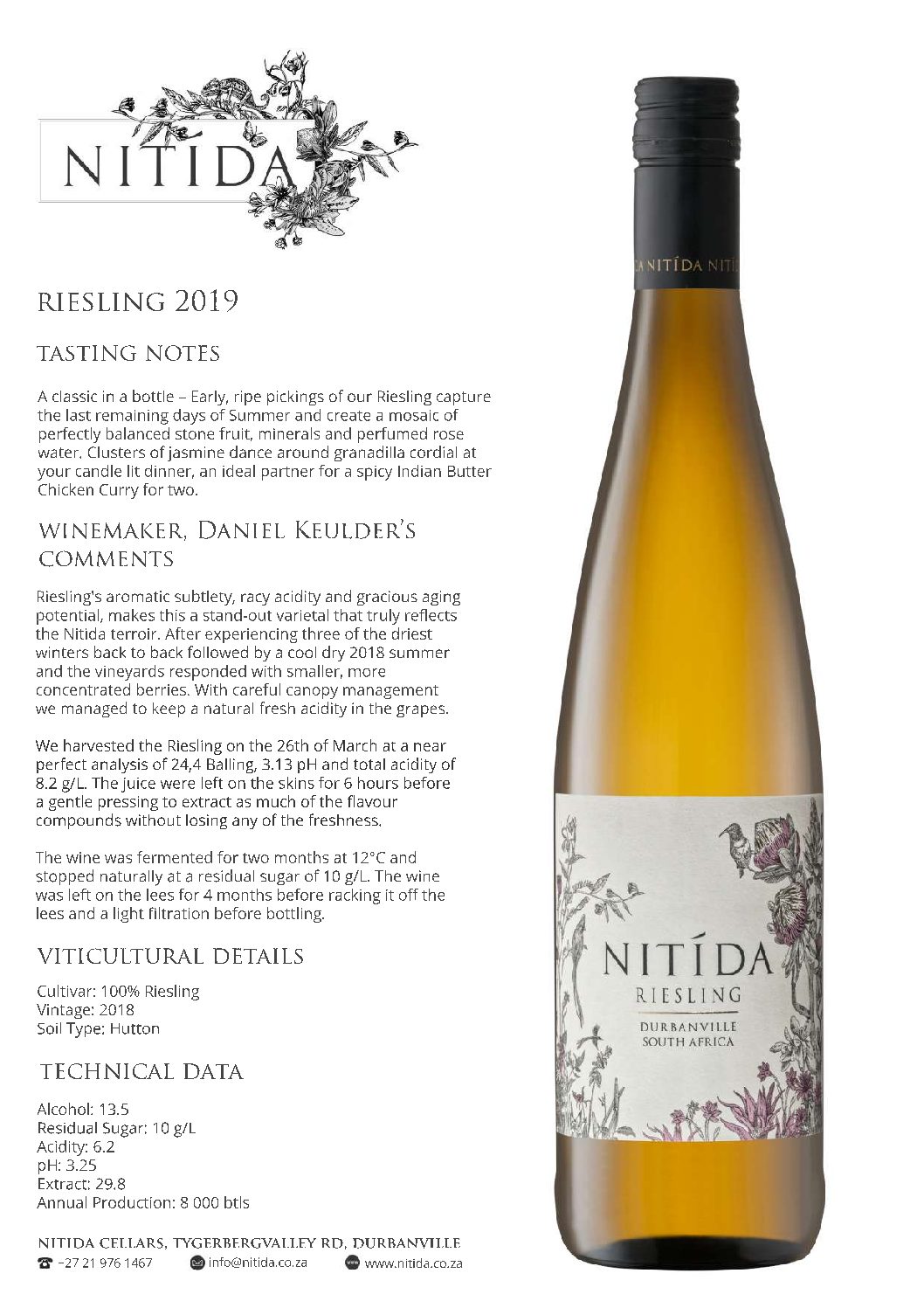 TASTING NOTES
A classic in a bottle – Early, ripe pickings of our Riesling capture the last remaining days of Summer and create a mosaic of perfectly balanced stone fruit, minerals and perfumed rose water. Clusters of jasmine dance around granadilla cordial at your candle lit dinner, an ideal partner for a spicy Indian Butter Chicken Curry for two.
WINEMAKER COMMENTS
Riesling's aromatic subtlety, racy acidity and gracious aging potential, makes this a stand-out varietal that truly reflects the Nitida terroir. After experiencing three of the driest winters back to back followed by a cool dry 2018 summer and the vineyards responded with smaller, more concentrated berries.
With careful canopy management we managed to keep a natural fresh acidity in the grapes. We harvested the Riesling on the 26th of March at a near perfect analysis of 24,4 Balling, 3.13 pH and total acidity of 8.2 g/L. The juice were left on the skins for 6 hours before a gentle pressing to extract as much of the flavour compounds without losing any of the freshness.

The wine was fermented for two months at 12°C and stopped naturally at a residual sugar of 12.9 g/L. The wine was left on the lees for 4 months before racking it off the lees and a light filtration before bottling.

ANALYSIS
SUBCRIBE TO OUR NEWSLETTER
Stay up to date with news, special offers and events happening at Nitida.